Security
Network security and computer data security solutions for businesses in Murray, Paducah and Benton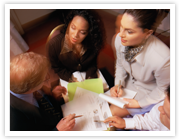 Is the Possibility of Internet Hackers and Computer Viruses Attacking Your Business a Constant Stress Factor?
"I can't possibly keep track of every employee's flash drive containing valuable data." This is a real threat to businesses today.
With Computer Data Security and Virus Removal that covers every aspect of your company, you can focus on your business, knowing your business is safe from internal and external threats. Our Network and Data Security solutions, along with virus removal, malware and spam protection services, are the answer to your security concerns in Murray, Paducah and Benton.
A top-of-the-line security architecture from DEVsource includes:
More free time - with data security management solutions that won't let computer issues interrupt your business.
Hacker prevention - with network security solutions that cover all your bases.
A reliable team of experts on your side - helping your business get the most advanced defense against Internet threats.
With security solutions that encompass every aspect of your company, you can rest easy knowing your business is in good hands.
DEVsource has the experience and creative thinking you can depend on for holistic security solutions that protect every aspect of your company. Serving companies in Murray, Paducah, Benton, Mayfield, Paris and Calloway County, we offer Wireless Network Security services that can put your mind at ease, knowing your company and network are safe and sound.
No matter whether your organization needs a network antivirus solution, antivirus and Internet protection, intrusion blocking, wireless network security, computer data security, virus removal, computer and PC security, wireless protection, or security consulting - we can take care of it for you.
If your employees use the Internet, your company is definitely vulnerable to damage and security issues. Defend yourself with our Computer Data Security and Virus Removal services before the Internet takes over your business.